I am a terrible "blogger" which is obvious by looking at this site. I'm not sure if I should try to keep this thing going or just give up completely.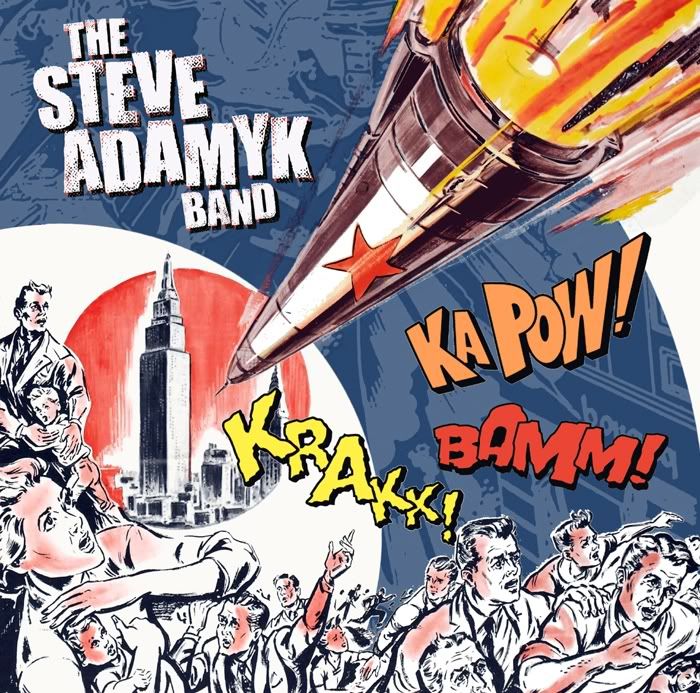 There has been a lot of great stuff happening lately though. The
STEVE ADAMYK BAND
lp was recently released by P.TRASH records. The release show happened on Nov 4th at Babylon with CRUSADES & STATUES and it was an absolute blast. The record is getting a great response including Mr Ben Weasel using his twitter to proclaim "
The Steve Adamyk Band LP is the best record of 2010 as far as I can tell." The Steve Adamyk Band is going to be playing SCREECHING WEASEL's 25th Anniversary show at the end of May! It has already been announced that the next Steve Adamyk Band lp will be out on DIRTNAP records.
Speaking of DIRTNAP records, they have recently released the second lp from local favorites THE WHITE WIRES! The record is called "WWII" and it is absolutely amazing. It continues on the forward trajectory they've been taking with every record that's come out since the lp. Do yourself a favor and pick up a copy of this amazing record. You can do so at the record release party that is happening next week!
Capital Distraction presents...
THE WHITE WIRES
Only a few days shy of their 3 year anniversary THE WHITE WIRES are dropping their 2nd full-length! They've released a couple of singles since their first lp and now this highly anticipated record is coming out on Dirtnap Records! 11 tracks of insanely catchy power pop that will make you pogo til you puke! These 3 cool cats barely play anymore th
...
ese days so you are truly a fool if you miss the chance to not only see them but also pick up their brand new record!!!

URANIUM COMEBACK

They play less than a handful of shows a year. This is their first show since the end of July. Perfectly-crafted intense power punk from a group of guys who have been doing it for years. Expect a record on GOING GAGA in the future which will make flip out and wish that this band played more than 3 times a year.

THE DAGGER EYES

This is the new band forming out of 1/2 of SUPPOSITORIES. That half being comprised of Ian (bass/vocals) and Ilona (guitar). This is their first show EVER! Be prepared to be pummeled by a blast of punk fury. Somewhat similar to the approach that SUPPOSITORIES were going for but THE DAGGER EYES turn it up a few notches till the knob broke off or exploded. Straight-forward and simple but way faster, more exciting and more intense.

THURSDAY DECEMBER 23RD 2010

THE WHITE WIRES (lp release!)
URANIUM COMEBACK (rare appearance!)
THE DAGGER EYES (first show!)

Babylon
317 Bank St.
10 pm.
$6
19+
See you there!