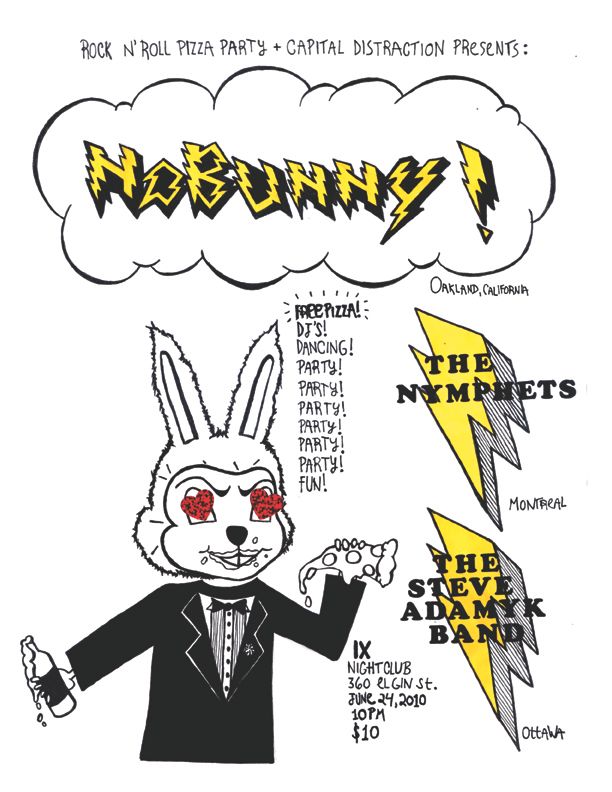 This Thursday June 24th
NOBUNNY
will be invading and destroying ROCK & ROLL PIZZA PARTY! This is NOBUNNY's third visit to Ottawa the first one being a couple years ago at RRPP with THE SMITH WESTERNS & DEMON'S CLAWS and the second being the infamous
Polish Party Palace
show with THE WHITE WIRES. Insanely catchy punk rock coming from the brain that wrote and performed songs for SNEAKY PINKS, THE OKMONIKS and HUNX & HIS PUNX to name a few. Always a wild live show full of sweat, smell and sex. Prepare Yourself.
THE NYMPHETS
will be playing their first Ottawa show in a few years. They have recently relocated to Sweden and have put out a great new 7" on SIGNED BY FORCE records since the last time they've been here. Always a great live band, they've been known to throw in some pretty interesting covers including COCK SPARRER & BAD BRAINS which is an interested contrast/accompaniment to their originals.
"These guys sound like BUDDY HOLLY would if he died in a rocket-ship crash instead of a plane crash."
- Standard Issue.
THE STEVE ADAMYK BAND
has released a 7" on P.TRASH and has another coming very soon from RED LOUNGE records from Germany. Steve is a jack of all punk trades and can write insanely catchy songs culling inspiration from many different facets of punk rock. Not reinventing the wheel but still giving you a smooth ride.
followed by ROCK N' ROLL PIZZA PARTY!!!!!!
FREE PIZZA! DJ'S! DANCING! PARTY! FUN!
IX NIGHTCLUB
360-B ELGIN ST.
10 PM
$10
Click
HERE
for the Facebook Event page.