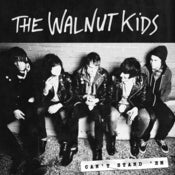 THE WALNUT KIDS
are from Montreal. They play a mix of late 70's/early 80's power punk like THE BOYS and STIFF LITTLE FINGERS with a bit of a rock n' roll twist to it. They have just released an amazing 7" called "Can't Stand 'Em" on the almighty
GOING GAGA
record label. The three songs on this record rip hard.
To commemorate the occasion they are playing a show at BORED TO DEATH this Friday April 4th. I'm really excited to see them again. I caught the last 3 songs of their set a few weeks ago and they were incredible. Definitely do not miss this show. For $3 bucks you'll see THE WALNUT KIDS and hang out and listen to great punk rock and power pop spun by four DJ's with great record collections.
BORED TO DEATH happens on the second Friday of every month in the basement of Ritual at 137 Besserer St at the corner of Besserer and Dalhousie St.