on FEBRUARY 26th OTTAWA will be ravaged by unruly savages. they run in packs and will swarm upon this fair city leaving it in rubble. these particular creatures are none other than the hot punk rock sensation
NOBUNNY
from OAKLAND who will be backed by CHICAGO's very own
THE SMITH WESTERNS
. NOBUNNY's record LOVE VISIONS made the top of a lot top ten lists for 2008. you can stream the whole record
HERE
!
"Every once in a while a record comes my way that I just can't stop listening to you know like an instant classic of sorts. Forget the bunny mask forget the wig forget the kinda corny gimmick . Behind all that lies some of the best lo-fi ramonesy punk slop I have heard in years. For sure the best record I own to jump around in your underwear and and eat pizza in bed to!"
- JAY REATARD
also playing will be montreal
DEMON'S CLAWS
who haven't been back since the basement show they played at A&A SPEED SHOP last spring. they will be releasing their LOST IN THE DESERT lp which is a collection of rare tracks and demos at this show so be sure to pick that up. that record is being put out by
TELEPHONE EXPLOSION
records which is run by two members of
TEENANGER
who are coincidentally playing this show as well.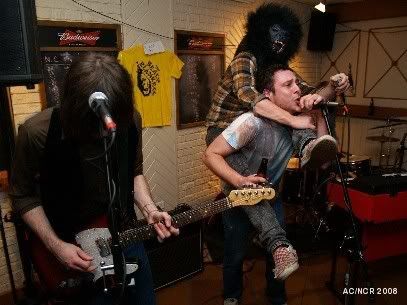 there couldn't be a better opening band for this show than
THE BEACH BLANKETS
. if you've missed the few shows they've already played you aren't going to want to miss this one. killer 50's rock & roll with punk attitude and a fun approach. they current and ex-members of MOTHER'S CHILDREN, HOLY COBRAS & THE FUNFUNS.
the show will be followed by a special edition of
ROCK N' ROLL PIZZA PARTY
which will be visiting it's old stomping grounds BABYLON NIGHTCLUB.
you aren't going to want to miss this.