i was out of town this weekend so i had to miss the KING KHAN & THE SHRINES SHOW. here's a run down of what went down on saturday night courtesy of STEPHANE.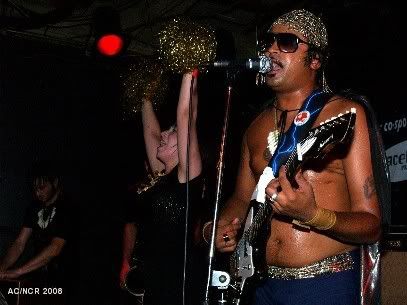 (photo by andrew carver)
king khan was awesome, as expected. the band is super tight and kicks ass. tiny stage though. khan made fun of the zaphods crowd all night. "we got 15 minutes left and then it's DJ smashing pumpkins"
they ripped through a cover of the saints "know your product"; dedicated to resin scraper and something about all the great ottawa punk bands. he kept referring to the post-gig with bloodshot bill at the elmdale tavern as happening at the "emerald tavern".
elmdale house, wellington street, 1 AM?
bloodshot bill was playing when we got there. decent crowd, lotsa dancing, lotsa friends.
when khan joined in on guitar, it turned into a garage/punk/oblivians/crypt records style beatdown. sometimes songs would half finish/start again, still, the crowd went nuts. I danced around and i bought them beers. fucking great cover of "papa oom mow mow".


thanks to STEPHANE for the update on the show. he is the host of
UP FOR A DOWNSLIDE
a great radio show on
CHUO
. tune in on tuesday nights at 9 pm to hear great garage, punk and glam tunes. i now have a radio show on CHUO as well. WAITING TO BE FORGOTTEN starts at 12 pm and kicks off an entire day of great radio shows on CHUO.
check out a listing of punk rock/indie/metal etc. shows
.