i've been kind of slackin' lately. i keep forgetting to bring my camera when i go to shows so i don't really have any pictures of all the cool things that went down recently.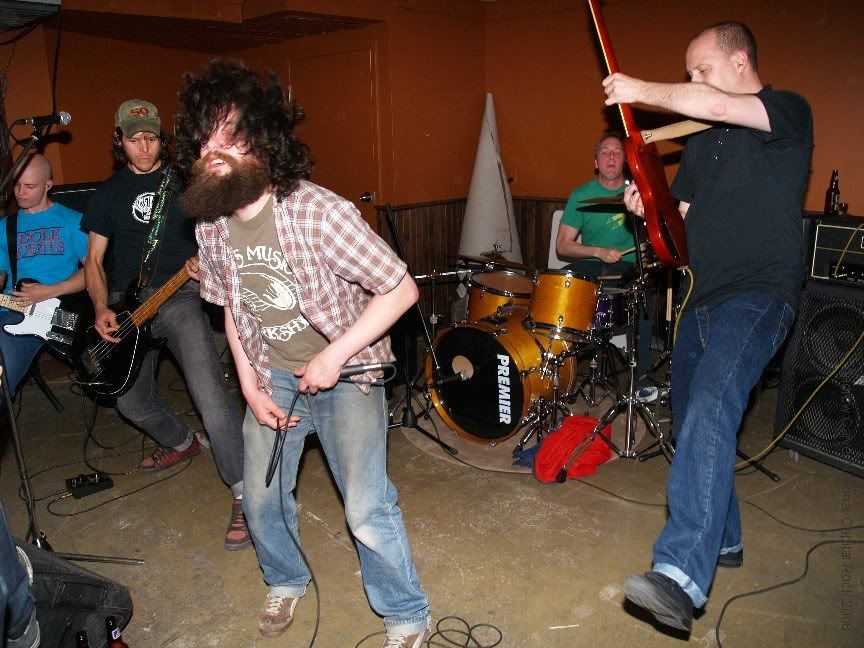 (photo by andrew carver)
thursday night was completely bananas.
THE ANNOYERS
started the night out with they're RAMONES/QUEERS worship punk rock. they were pretty great despite some little guitar issues.
THE FUCKING MACHINES
made their triumphant return and nobody was let down. the new line-up is working really well together and they sounded better than ever. throw in a cover of
SIX PACK
and it's bound to get crazy. thanks a lot to the bands for playing and to everyone who came out.
saturday night was awesome too. it all started with MOTHER'S CHILDREN first show. featuring 2 dudes from SICK FITS and 2 dudes from the MILLION DOLLAR MARXISTS these guys bring in influences from the 60's to the early 80's. their duel attack of acoustic and electric guitars and some really great bass-lines and some seriously solid drumming creates catchy power pop that makes you want to dance. you'll get a good idea of what they sound like when i tell you that they covered THE BOYS and
THE KINKS
.

SAVAGE CRIMES
was up next and it was only their second show. they ripped it up in their trashy garage punk style. they are playing very early on the saturday day show of GAGA FEST so make sure you show up early to catch them. you won't be disappointed.
THE SUPPOSITORIES
were next and it was by far the best set i've seen by them. the sound for them was incredibly good and they were super tight. i was really into it and i'm looking forward to seeing them again in a couple of weeks.

HOLY COBRAS
ended the night off with a bang. smoke filled the room. people got a little crazy. it was a lot of fun. their new songs rip so hard it's ridiculous. they are way more intense and way faster with a late 70's/early 80's "post-punk" feel to them. they played a lot of their old songs too and people were loving it.
there was a pretty good turn out for this show which was cool since it was an all local show. thanks a lot to todd for booking it. all of these bands and so many more are playing the
GAGA WEEKEND
which is going to be pure insanity.
ALSO...............
word has it that A&A SPEED SHOP may not be doing shows anymore. apparently some kids got wasted and knocked the fence in the backyard down into their neighbors yard. smart move. when i heard about this i got pretty bummed out. hopefully some shows will still go on there eventually. i don't know the details but it's pretty messed up that it happened and it's unfortunate if no one did or said anything to stop it.