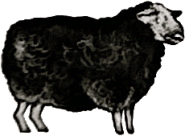 may 1st not only marks
EXILE INFO SHOP
's one year anniversary but they're actually moving to a bigger space down the hall from their old location. they have a lot of things to offer such as 4 computers with free internet access, a lending library of books and dvd's as well as books and zines and whatnot for sale. it's a volunteer-run space so if you're interested in volunteering or simply just checking the place out, this party could be a good excuse to finally check it out. they're located at 256 BANK street at COOPER. they're taking over the spot that used to be A&H records. they're open from 12 pm to 8 pm wednesday to sunday.
FB
go check that out then head on down to the BYTOWN TAVERN for
ROCK N' ROLL PIZZA PARTY
. i will play
SHAVED WOMEN
or
DO THEY OWE US A LIVING
if enough people ask for it.
LORDS
are playing
END HITS
on FRIDAY. they rip super hard and basically bridge the gap between the speed and intensity of the
FIRST FOUR YEARS
and the riffs and attitude of the
MY WAR
and beyond years. come to think of it, they probably like
ROLLINS BAND
more than
BLACK FLAG
. they're playing with
CLOAK/DAGGER
who are clearly fans of
BLACK FLAG
/
SWIZ
and
HOT SNAKES
/
DRIVE LIKE JEHU
since every song sounds like a mix of those bands. it's just the two bands so it's going to be short and sweet. bring your
skateboard
. it's gonna be a
THRASH ZONE
. 8 pm. $8. AA.
FB
EXCLAIM! magazine reviewed the HOLY COBRAS cassette.
Holy Cobras
Keep Your Hands Off My Stuff
By Sam Sutherland

The second release from cassette-only label Telephone Explosion, Keep Your Hands Off My Stuff sounds pretty perfect coming from tiny, shitty spools of analog tape. Hailing from our nation's capitol and playing fuzz-drenched garage punk that makes models like Julian Casablancas quake in their Cons, Holy Cobras kind of sound like White Light/White Heat-era Velvet Underground playing twice as fast and without any of John Cale's avant-garde deviations. Songs like "Stormy Weather" offer some blues flavour before kicking back into pure rock'n'roll territory, while "Sun Inside" is pretty much the Stooges with a keyboard, which is awesome. (Telephone Explosion)